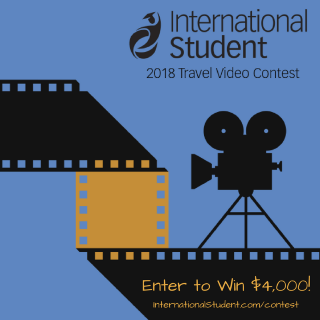 We're excited to announce that our 2018 Travel Video Contest is open for your entry! Each year we welcome numerous videos from around the world and this year we are more excited than ever see where you want to study and travel! Four winners will be named and received the following great cash prizes:
• 1st Place Winner: $4,000
• 2nd Place Winner: $500
• 3rd Place Winner: $250
• Viewers' Choice Winner: $1,000
How do you enter?
Create a short 4 minute or less video that is specifically created for the 2018 InternationalStudent.com Travel Video Contest. If you are currently studying outside of your home country, your video must describe any trip you would like to take. If you are not currently studying outside of your home country, your entry must describe your proposed study abroad. While that is one of the main items you must meet to be eligible for the plan, there are other rules and regulations you must meet.
All videos are due by October 9th, 2018. Once eligible videos are live on the InternationalStudent.com site voting will open during the week of October 12th so the 2018 Viewers' Choice winner can be named. All finalists (including the Viewers' Choice winner) will be announced November 7th, and the final winner will be named November 16th, the last day of International Education Week.